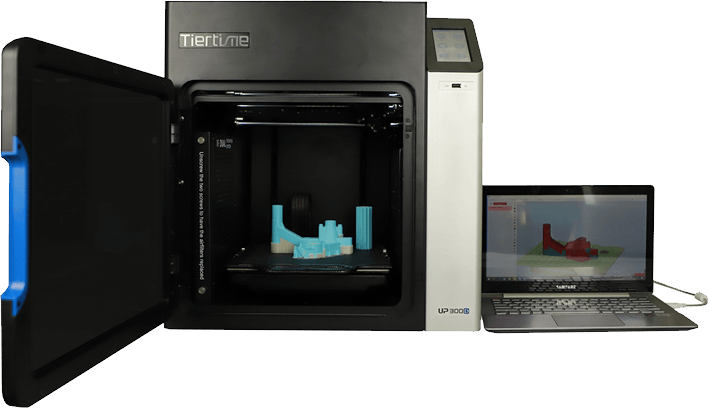 The UP300D is the latest of Tiertime's 3D printers designed with professionals in mind. It offers high precision, ease-of-use, and superior performance. Applications include: engineering, prototyping, short-run production, one-off fabrication, medical, dental, R&D, education, architecture and industrial tooling.
Convergence Dual Extruder
Tiertime's all-new Convergence extruder performs dual extrusion via twin direct-drive filament paths feeding a single nozzle. With no need to align two nozzles, water-soluble or breakaway material can be used for easy support removal from complex parts.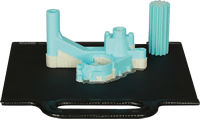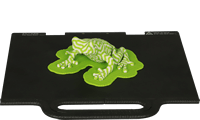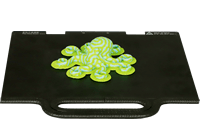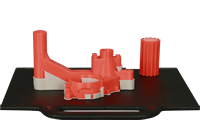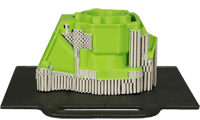 Heated Filament Compartment
Filament spools are kept at a steady 55°C by an internal filament compartment heater. This keeps filaments dry, ensures water-soluble material lifespan, and maximizes print quality and reliability.
Powerful Software Package
Up Studio 3.0 is a dedicated software package and state-of-the-art slicing engine developed for Tiertime machines. It supports both dual and single material printing and offers granular print parameter control at every possible level. Within a single print job, multiple models can be printed with different settings and each model can have designated sections with their own settings. Alternatively, operate in Basic mode for a plug 'n play experience.
The UP300D can increase print speed by printing smaller layers only where they are required to produce fine detail. Different layer height variation ranges can be applied on a per model or per section basis.
Connectivity options include Wi-Fi, Ethernet, USB cable, and USB memory stick. Multiple users on a network can send tasks to the printer, which can be monitored and managed via the Tiertime Print Queue.
The UP300D incorporates Tiertime's two-stage HEPA and activated carbon air filtration system, providing maximum UFP and VOC reduction for a safe operating environment.
The Tiertime Dryer helps maintain a pure material state by removing air-induced moisture from filament prior to 3D printing or sealed storage. It features a two-spool capacity, a 48-hour timer, and an adjustable temperature range from 35°C to 75°C.
Specifications and Warranty
Printer

 
Printing Technology
 MEM  (Melted Extrusion Modelling)
Extruder
Convergence Dual/Single
Nozzle Diameter
0.2mm, 0.4mm, 0.6mm, and 0.5mm
Extruder Maximum Temperature
299℃
Extruder Maximum Travel Speed
200 mm/sec
XYZ Accuracy
7, 7, 1.5 micron
Connectivity
USB Cable, Wi-Fi, LAN and USB Stick
Touch Screen
4.3″ Full Colored LCD Screen/Linux Board
Build Volume
Single:205 × 255 × 225 mm (8″ x 10″ x8.8″)(XYZ)
Double:180 × 235 × 225 mm (7″ x 9,3″ x8.8″)(XYZ)
Printed Object Accuracy
±0.1mm/100mm
Layer Resolution
0.05/0.1/0.15/0.2/0.25/0.3/0.35/0.4mm/User Defined
Calibration and Levelling
Automatic/Manual
Print Surface
Perf Glass or Flex Glaess,Heated
Dual Filtration System
HEPA and Actived Carbon Filters
Pause to Change Filament Type
Yes
Filament
UP Fila ABS,  ABS+,  PLA, PETG, TPU and more
Filament Diameter
1.75mm
Filament Spool Compatibility
500 – 1000g
Extra USB Input for Add-on
5V,1A
Compatible with 3rd Party Filament
Yes
Software

 
Software
UP Studio 3.0
Supported OS
Windows 7 (SP1) or later (32 bit and 64 bit)
Mac OSX or later
Importable File Formats
.up3, .ups, .tsk, .obj, .3mf, .ply, .off, .3ds, .gcode

Special Features

Heated Filament Compartment
Tiertime Print Queue
Power Loss Recovery
Filament Runout Protection
Powerful Support Structure

Dimensions

Machine Dimensions
500 x 523 x 460 mm
(19.6″ x 20.5″ x 18.1″)
Net Weight
30kg

Requirements

Operating Ambient Temperatures 0~30℃. 0~40% RH

Requirements

Power Input
Power Input110-240VAC,50-60Hz,360W