The moment I saw this filament it made me think of chocolate!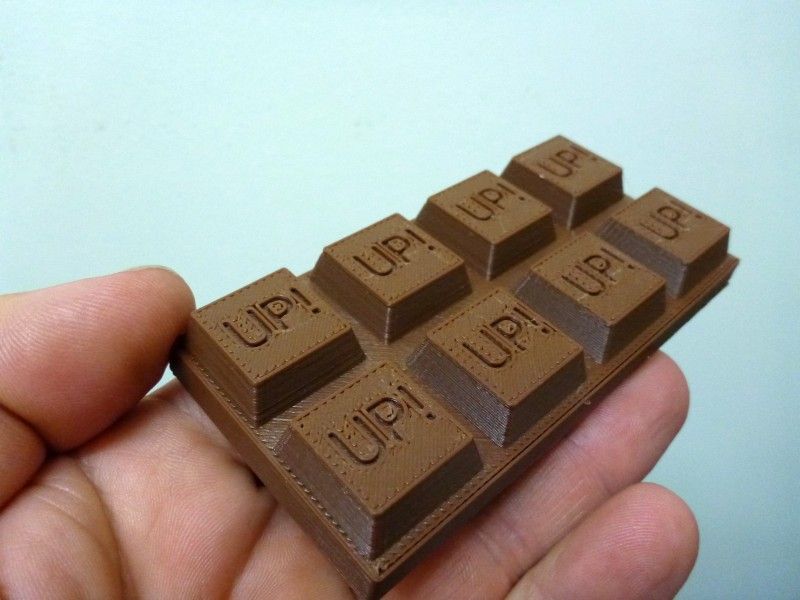 Regards
Jamie
3DPrinterGear.com.au
---
Wow! It looks like a real chocolate!
---
yumm, how about inverting it and pouring chocolate into it the mold ? would it be OK to eat ??
---
You could make a negative of the STL to create a mold, then print the mold in ABS to produce non food items in, such as custom home-made soaps or plaster items. But everything I have read about printed ABS is that it is NOT the same as the food grade ABS used in cutting boards and other kitchen utensils and should not be placed in direct contact with food items to prevent contamination.

I have heard of people taking a piece like the printed chocolate and then applying a series of layers of food-grade silicone over it and letting it cure. Once it is fully cured it is peeled off the ABS piece, it gets cleaned and then it is ready to use as a mold.

Not sure how safe that is, but it sounds a little better than trying to work straight from the printed ABS mold.
Thanks,

FallGuy
---
I know the owners of a small chocolate factory nearby. I might drop the "sample" off to them, just for fun.

I think a chocolate rabbit might look good too!

Making a mold is an interesting idea. Not sure how good the result would be with the layers. I think making a plug from the ABS mold might be the way to go.
Regards
Jamie
3DPrinterGear.com.au
---
---
LOL thanks Fallguy they look great!
Regards
Jamie
3DPrinterGear.com.au
---